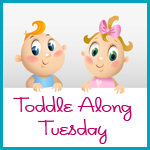 This week, I am co-hosting Toddle Along Tuesday with Growing Up Geeky.
We are sharing some of our favorite baby or toddler recipes.
Since Tasty Thursdays are one of my major blog staples, I have quite a few.
Here's what my girls are currently loving:
Breakfast
Lunch
Our lunches are pretty typical toddler foods:
PB&J
Turkey Hot Dogs
Quesadillas
For sides we often do Fruit, Veggies & Dip, Gold Fish Crackers, String Cheese.
No recipes needed!
Snack
Dinner
And if your little one is just starting solids, make sure you check out my recipe for homemade baby food!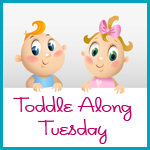 This week's Toddle Along Tuesday topic is
baby/toddler recipes
! Share your favorite recipe for your little one. There are no rules, except that you link up a
relevant
post rather than your whole blog.