The next mom featured on Mommy's Must Have Monday:
Amber, high-school teacher and mom to Liam
Her blog: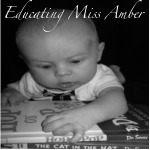 Her favorite product:


Liam started teething at four and a half months. When his first two teeth popped through, I knew I could no longer rely on using a washcloth to clean his gums. I turned to Amazon to find a toothbrush for Liam. When I found the Baby Banana Bendable Infant Training Toothbrush, I couldn't resist.
This toothbrush was designed by a mom-hygienist. I love the cute banana design, and most importantly, it's made entirely of silicone, making it safe for babies.
I also love dual-purpose items, so I love that this item doubles as a teething toy. One of the moms who wrote a review of the item mentioned that her baby liked it better than her Sophie the Giraffe. I've found that Liam loves this item, too. The design makes it easy for him to maneuver, and it's freezer friendly, which is also great.

Check out more about Amber and the adorable Liam at Educating Miss Amber.