The next mom featured on Mommy's Must Have Monday:
Nykki, mom to 11 month old Olivia and one on the way!
Her blog: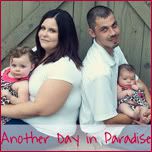 Her favorite product:

We've had Violet around for awhile now, probably since Olivia was about 5 months old. It's one of those toys I saw and instantly loved, so my mom bought it for her. I couldn't wait to get it all set up and let her play with it. At the time, she could care less. What a letdown!
But now that she's older and is starting to understand what Violet is saying, I can't keep her away from it!
You can customize Violet to say your child's name, favorite food, color and animal, and even choose what songs to sing.
Olivia loves the songs that say her name; it's too adorable! She loves dancing and bouncing to the songs and tries to eat Violet's collar that lights up. It also has a lullaby button on the foot which is great for naptimes and bedtime. You can choose 2, 5, or 10 minutes, and it's super easy for her to push the paw again if the music goes off too soon.

My Olivia got one of these for her 1st birthday and she loves it too!  Find out more about Nykki and her Olivia at Another Day In Paradise.